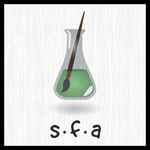 science fried art
Science Fried Art is the collective, creative expression of two post-graduate researchers and their love of science. We started out creating designs for ourselves as shirts or totes (study animals, scientists we admire, science jokes etc.). We now have so many designs that we've decided to share them with scientists and science fans alike.We also support various charities related to science, education and the environment. science fried art joined Society6 on January 27, 2013
More
Science Fried Art is the collective, creative expression of two post-graduate researchers and their love of science.
We started out creating designs for ourselves as shirts or totes (study animals, scientists we admire, science jokes etc.). We now have so many designs that we've decided to share them with scientists and science fans alike.We also support various charities related to science, education and the environment.
science fried art joined Society6 on January 27, 2013.
Fruit Bat Paints Forest by science fried art
40 results
Filter