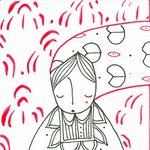 Biophile
Biophile is an art project by Michela Degioannis Michela Degioannis was born in Cagliari on April 20th, 1983. After graduating from art school in her home town, she attended a comics course, some illustration workshops, and then enrolled in Painting Class at the Academy of Fine Arts in Sassari. Between an equinox and another, she loves writing, illustrating stories and sewing puppets. She lives on a beautiful island in the middle of the sea. She does not disdain chatting with trees or having night walks together with foxes. Biophile joined Society6 on October 12, 2014
More
Biophile is an art project by Michela Degioannis
Michela Degioannis was born in Cagliari on April 20th, 1983. After graduating from art school in her home town, she attended a comics course, some illustration workshops, and then enrolled in Painting Class at the Academy of Fine Arts in Sassari. Between an equinox and another, she loves writing, illustrating stories and sewing puppets. She lives on a beautiful island in the middle of the sea.
She does not disdain chatting with trees or having night walks together with foxes.
Biophile joined Society6 on October 12, 2014.