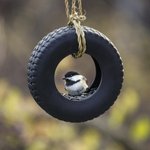 Bird Junker
Sometimes I bird before I junk, and sometimes I junk before I bird. A fun day for me involves rambling around the back roads of the Midwest looking for great junk and beautiful birds. I've been a collector of vintage for many years ... the love of birds is a more recent interest but one that's growing every day. I never leave home without my camera. Thanks for stopping by! http://www.facebook.com/moxie.dekalb http://www.etsy.com/shop/shopatmoxie http://instagram.com/moxiedekalb Bird Junker joined Society6 on August 31, 2014
More
Sometimes I bird before I junk, and sometimes I junk before I bird.
A fun day for me involves rambling around the back roads of the Midwest looking for great junk and beautiful birds. I've been a collector of vintage for many years ... the love of birds is a more recent interest but one that's growing every day. I never leave home without my camera. Thanks for stopping by!
http://www.facebook.com/moxie.dekalb http://www.etsy.com/shop/shopatmoxie http://instagram.com/moxiedekalb
Bird Junker joined Society6 on August 31, 2014.