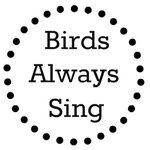 Birds Always Sing
"The birds always sing after the rain." I find this comforting, a reminder that nature is resilient and so are we. In my photography and other art work I try to capture the feeling of a sweet day, with birds singing, the sound of the breeze through leaves, the sun gently warming us. I want to create images that bring calm and happiness. Birds Always Sing joined Society6 on August 10, 2012
More
"The birds always sing after the rain." I find this comforting, a reminder that nature is resilient and so are we.
In my photography and other art work I try to capture the feeling of a sweet day, with birds singing, the sound of the breeze through leaves, the sun gently warming us. I want to create images that bring calm and happiness.
Birds Always Sing joined Society6 on August 10, 2012.
Birds Always Sing's Store
147 results
Filter