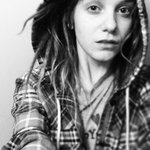 EnmiArt
I was born in 1988, living in cold and gloomy Sweden. As a kid I loved playing with dolls, video games and paint. I never stopped loving it and my life has always been about creativity. When I turned 16 I moved away from home to study art and animation. I moved on to study video game graphics at the University of Skövde and graduated with a bachelors degree. At school I joined as many game projects as I could both during school hours and after. I worked as a texture artist for Stunlock Studios on the game Bloodline Champions and after that I joined Coffee Stain Studios on the games Sanctum and Sanctum 2 as an artist and game writer.
In April 2014 I decided to start my own business and work as a freelance artist. Since then I have worked on a lot of interesting projects both big and small. My clients range from authors who need illustrations for their books, game companies who want concept art and character design, musicians who need album covers and so on. I feel that I want to try as many things as possible and find ways to use my imagination and skills to breathe life into whatever project I'm working on.
I love creating things and I do this in a number of different ways, not just for video games. I collect and customize toys, design clothes and I'm learning how to sculpt in clay. I'm a huge fan of fashion photography, poetry, electronic music and gothic horror stories. I'm a wild mix of a little bit of everything that is playful and out of this world.
Read more