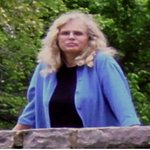 bizwings
Julie Grace has worked in oils & pastels for the past 20 years. In 2007 she has branched out into mixed media photography and computer generated art. She has great satisfaction in providing work in a variety of subjects which range from the simple dramatic landscape to the more abstract pieces that make you search deep within for their meaning. Her work can also be found on Fine Art America, Artmajeur, Mancostyle, Singular Creation, Image Kind, and Deviant Art. She can also be found on Pinterest.com. bizwings joined Society6 on June 20, 2014
More
Julie Grace has worked in oils & pastels for the past 20 years. In 2007 she has branched out into mixed media photography and computer generated art.
She has great satisfaction in providing work in a variety of subjects which range from the simple dramatic landscape to the more abstract pieces that make you search deep within for their meaning.
Her work can also be found on Fine Art America, Artmajeur, Mancostyle, Singular Creation, Image Kind, and Deviant Art. She can also be found on Pinterest.com.
bizwings joined Society6 on June 20, 2014.