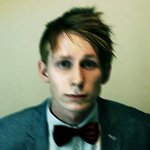 Björn Moss Bjerling
Björn Moss Bjerling is a contemporary artist from Sweden.
Björn primarily works with oil paint on large stretched linen canvases, but does also explore the nature and assets of acrylics, aquarelle, ink and micron pens.
His work usually consists of colorful figure paintings with influences from modern art movements like fauvism. The motifs often seek to embrace and combine appeal and attraction with repulsion.
▼▼▼▼▼▼▼▼▼▼▼▼▼▼▼▼▼ http://bjerling.se/ http://bjornbjerling.tumblr.com/ https://www.facebook.com/pages/Bj%C3%B6rn-Moss-Bjerling/132897166791206 ▲▲▲▲▲▲▲▲▲▲▲▲▲▲▲▲▲
Want some of the prints to be available on your laptop etc? Drop me a comment!
Read more
Björn Moss Bjerling's Store
Filter
Björn Moss Bjerling's Store