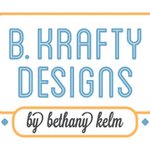 bkraftydesigns
I started "Bkrafty Designs" because I have always loved to paint and draw things for my friends like birthday cards, pictures, fun things with their monograms, cute letters, good luck signs, etc. When I started college everyone wanted me to paint them things for their sororities and dorm rooms, so I decided I would. I named my little business Bkrafty for my initials "BK" one of my nicknames. I absolutely love that I have been able to paint canvases for so many people, and I hope to continue to paint even more. Check out my shop and you can even look at my blog, too. www.b-krafty.blogspot.com Enjoy! Bethany bkraftydesigns joined Society6 on July 24, 2013
More
I started "Bkrafty Designs" because I have always loved to paint and draw things for my friends like birthday cards, pictures, fun things with their monograms, cute letters, good luck signs, etc. When I started college everyone wanted me to paint them things for their sororities and dorm rooms, so I decided I would. I named my little business Bkrafty for my initials "BK" one of my nicknames. I absolutely love that I have been able to paint canvases for so many people, and I hope to continue to paint even more. Check out my shop and you can even look at my blog, too.
www.b-krafty.blogspot.com
Enjoy! Bethany
bkraftydesigns joined Society6 on July 24, 2013.