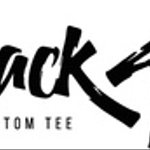 Black Ship
We have a dream and we are making it real. Our project was born to illustrate, write and produce our ideas, and to see them worn by anyone who loves calligraphy, drawing and graphics. Black Ship comes from all this, from the desire to share our emotions when we write and draw. Black Ship – Dark Custom Tee, was created to describe a journey against the tide, toward unknown places. That's the reason why we chose a naming offering two interpretations simultaneously. The black ship, the journey and, as a play on pronunciation, the black sheep, the ones a little bit out of the box. It Fully represents our intentions: we want to offer something different, unique and above all of high quality. For the various production processes, we exclusively rely on the professionalism of local craftsmen. Targeted and selected themes, well precise emotions. Energy and passion, without compromise. Luca (co-founder)e Antonio (co-founder) are the Black Ship team. Good intentions are there, now it's your turn. Soon we will be on kickstarter, how many of you will come on board? Free Rum for everyone. --- Abbiamo un sogno e lo stiamo realizzando. Il nostro progetto nasce per illustrare, scrivere e produrre le nostre idee. Vederle indossate da chiunque ami la calligrafia, il disegno e la grafica. Black Ship nasce da tutto questo, dalla voglia di condividere le nostre emozioni quando scriviamo e disegniamo. Black Ship – Dark Custom Tee, nasce per descrivere un viaggio verso luoghi sconosciuti, da fare contro corrente. Per questo un naming che offre due chiavi di lettura contemporaneamente. La nave nera, il viaggio e, gioco di pronuncia, le pecore nere, quelle un pò fuori dal coro. Rappresenta a pieno le nostre intenzioni, vogliamo offrire qualcosa di diverso, unico e soprattutto di qualità. Per i vari processi di produzione, ci affidiamo esclusivamente alla professionalità di artigiani locali. Temi mirati, selezionati, emozioni ben precise. Energia e passione, senza compromessi. Luca (co-founder) e Antonio (co-founder) costituiscono il team Black Ship. Le buone intenzioni ci sono, ora aspettiamo voi. A breve saremo su kickstarter, quanti di voi saliranno a bordo ? Rum gratis per tutti. Black Ship joined Society6 on January 10, 2017
More
We have a dream and we are making it real. Our project was born to illustrate, write and produce our ideas, and to see them worn by anyone who loves calligraphy, drawing and graphics. Black Ship comes from all this, from the desire to share our emotions when we write and draw. Black Ship – Dark Custom Tee, was created to describe a journey against the tide, toward unknown places. That's the reason why we chose a naming offering two interpretations simultaneously. The black ship, the journey and, as a play on pronunciation, the black sheep, the ones a little bit out of the box. It Fully represents our intentions: we want to offer something different, unique and above all of high quality. For the various production processes, we exclusively rely on the professionalism of local craftsmen. Targeted and selected themes, well precise emotions. Energy and passion, without compromise. Luca (co-founder)e Antonio (co-founder) are the Black Ship team. Good intentions are there, now it's your turn. Soon we will be on kickstarter, how many of you will come on board? Free Rum for everyone.
---
Abbiamo un sogno e lo stiamo realizzando. Il nostro progetto nasce per illustrare, scrivere e produrre le nostre idee. Vederle indossate da chiunque ami la calligrafia, il disegno e la grafica. Black Ship nasce da tutto questo, dalla voglia di condividere le nostre emozioni quando scriviamo e disegniamo. Black Ship – Dark Custom Tee, nasce per descrivere un viaggio verso luoghi sconosciuti, da fare contro corrente. Per questo un naming che offre due chiavi di lettura contemporaneamente. La nave nera, il viaggio e, gioco di pronuncia, le pecore nere, quelle un pò fuori dal coro. Rappresenta a pieno le nostre intenzioni, vogliamo offrire qualcosa di diverso, unico e soprattutto di qualità. Per i vari processi di produzione, ci affidiamo esclusivamente alla professionalità di artigiani locali. Temi mirati, selezionati, emozioni ben precise. Energia e passione, senza compromessi. Luca (co-founder) e Antonio (co-founder) costituiscono il team Black Ship. Le buone intenzioni ci sono, ora aspettiamo voi. A breve saremo su kickstarter, quanti di voi saliranno a bordo ? Rum gratis per tutti.
Black Ship joined Society6 on January 10, 2017.