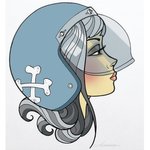 Cory Mendenhall / Blackwing Arts
Hello! I am Cory Mendenhall - an artist living in Long Beach, Calif. I love classic, mid-century illustration, traditional tattoo art, and anything that has to do with old motorcycles. Thanks for checking out my work - Enjoy! See more at coryart.blogspot.com Cory Mendenhall / Blackwing Arts joined Society6 on November 21, 2011
More
Hello! I am Cory Mendenhall - an artist living in Long Beach, Calif. I love classic, mid-century illustration, traditional tattoo art, and anything that has to do with old motorcycles. Thanks for checking out my work - Enjoy!
See more at coryart.blogspot.com
Cory Mendenhall / Blackwing Arts joined Society6 on November 21, 2011.
Cory Mendenhall / Blackwing Arts's Store
11 results
Filter