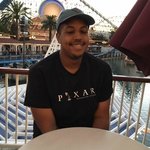 Bliss Art
My name is Devante Gerome Harris, I'm a 22 year old 2D Artist / Illustrator / Animator. I grew up in San Jose's South Bay Area. They weren't the best neighborhoods, but I maintained an achievable life and stayed away from the whole drug world. Observing my surroundings and being strong headed, I stayed in my own lane. I was different and everyone could see that, including my family, I was a character. Growing up and going through school wasn't easy for me; I was the fat kid who was pretty much an introvert and stayed in my shell. It's hard to admit but I was alone and felt alone for a big part of my life. From getting picked on, I grew up dealing with depression. I didn't really know how to deal with the outside world, my head was in this animated world full of creativity. So, I spent most of my days sitting at home or in school quietly drawing. I started drawing at the age of 5 years old and I still remember my very first drawing of Bugs Bunny; back then my inspiration came from my cousin who loved drawing and he was amazing in my eyes so I followed in his foot steps. I was so quick to give up, though, because the same person I idolized would turn me away, shut me out and would say, "Do it yourself, I'm not gonna help you." The willingness to be taught by another went into the trash, so I taught myself everything from rough sketching to creating what I saw in my head. I was born to draw, I was blessed with a talent and the one cousin I looked up too I surpassed in the illustration field. Over the years my skills and knowledge kept growing until I was able to pay for my own stuff and activities at the age of 13 by selling my doodles. Drawing in high school is where I actually found myself and I had made a name for myself. Life became easier but difficult for me at the same time. I almost didn't graduate high school because I would draw too much; all I wanted to do was draw because it gave me life. I faced depression which led me to thinking there was no place for me in this world. I was abused by my step father and was punched in my sleep and I had water poured on me multiple times in my sleep. I wanted to kill myself and attempted suicide but would never commit…I just couldn't. Something kept telling me to hang on and I did but the pain still lingers inside. I used my anger and determination to get me through. Keeping a strong head allowed me to succeed in my endeavors. I graduated high school and broke free. I attended the San Francisco Art Institute for 2 years and by then I was more extroverted and happy because I was going to the school of my dreams and connected with my high school sweetheart outside of school and In college my girlfriend found out she was pregnant so I left school and I got two jobs to support our baby. When we had our baby girl I put drawing on the back burner because as a man I wanted to provide as best as I could. I would get really sad because I stopped drawing. Eventually, I rekindled the flame that was put out and picked up the pencil again, acquired a drawing tablet, expanded my skill range and started putting out traditional pieces, as well as digital pieces. I started building a solid portfolio. My artist name is Bliss a friend of mines help me discover that name because when people see my artwork that's what they get a taste aha we thought it was clever and it stuck my fan base calls me Bliss aha. I am now attending Full Sail University in Winter Park Florida taking the online program and majoring in Computer Animation. I just finished putting together an official cartoon I plan on pitching to major networks soon. My little girl inspired me to create a series of children books to help kids learn in numerous ways and progress as they get older. I've recently branched out with a company that I help illustrate for: " Lost Imagination Studios " in Florida. I know in my heart something will happen and I'll be apart of the next big creation. Hell that big creation may just be mine. This is what I meant to do. All I can say is don't sleep on greatness, don't overlook the little things and one day you will be one of the greats. I plan to finish college right now and get ahold of my dream job. I strive off providing for my family and working hard and it will all pay off soon i'm sure of it! Thank you for reading. -Devante Harris Bliss Art joined Society6 on October 4, 2016
More
My name is Devante Gerome Harris, I'm a 22 year old 2D Artist / Illustrator / Animator. I grew up in San Jose's South Bay Area. They weren't the best neighborhoods, but I maintained an achievable life and stayed away from the whole drug world. Observing my surroundings and being strong headed, I stayed in my own lane. I was different and everyone could see that, including my family, I was a character. Growing up and going through school wasn't easy for me; I was the fat kid who was pretty much an introvert and stayed in my shell. It's hard to admit but I was alone and felt alone for a big part of my life. From getting picked on, I grew up dealing with depression. I didn't really know how to deal with the outside world, my head was in this animated world full of creativity. So, I spent most of my days sitting at home or in school quietly drawing.
I started drawing at the age of 5 years old and I still remember my very first drawing of Bugs Bunny; back then my inspiration came from my cousin who loved drawing and he was amazing in my eyes so I followed in his foot steps. I was so quick to give up, though, because the same person I idolized would turn me away, shut me out and would say, "Do it yourself, I'm not gonna help you." The willingness to be taught by another went into the trash, so I taught myself everything from rough sketching to creating what I saw in my head. I was born to draw, I was blessed with a talent and the one cousin I looked up too I surpassed in the illustration field.
Over the years my skills and knowledge kept growing until I was able to pay for my own stuff and activities at the age of 13 by selling my doodles. Drawing in high school is where I actually found myself and I had made a name for myself. Life became easier but difficult for me at the same time. I almost didn't graduate high school because I would draw too much; all I wanted to do was draw because it gave me life. I faced depression which led me to thinking there was no place for me in this world. I was abused by my step father and was punched in my sleep and I had water poured on me multiple times in my sleep. I wanted to kill myself and attempted suicide but would never commit…I just couldn't. Something kept telling me to hang on and I did but the pain still lingers inside. I used my anger and determination to get me through. Keeping a strong head allowed me to succeed in my endeavors.
I graduated high school and broke free. I attended the San Francisco Art Institute for 2 years and by then I was more extroverted and happy because I was going to the school of my dreams and connected with my high school sweetheart outside of school and In college my girlfriend found out she was pregnant so I left school and I got two jobs to support our baby. When we had our baby girl I put drawing on the back burner because as a man I wanted to provide as best as I could. I would get really sad because I stopped drawing.
Eventually, I rekindled the flame that was put out and picked up the pencil again, acquired a drawing tablet, expanded my skill range and started putting out traditional pieces, as well as digital pieces. I started building a solid portfolio. My artist name is Bliss a friend of mines help me discover that name because when people see my artwork that's what they get a taste aha we thought it was clever and it stuck my fan base calls me Bliss aha. I am now attending Full Sail University in Winter Park Florida taking the online program and majoring in Computer Animation. I just finished putting together an official cartoon I plan on pitching to major networks soon. My little girl inspired me to create a series of children books to help kids learn in numerous ways and progress as they get older. I've recently branched out with a company that I help illustrate for: " Lost Imagination Studios " in Florida. I know in my heart something will happen and I'll be apart of the next big creation. Hell that big creation may just be mine. This is what I meant to do.
All I can say is don't sleep on greatness, don't overlook the little things and one day you will be one of the greats. I plan to finish college right now and get ahold of my dream job. I strive off providing for my family and working hard and it will all pay off soon i'm sure of it!
Thank you for reading.
-Devante Harris
Bliss Art joined Society6 on October 4, 2016.