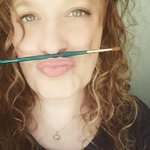 Kristie Vargo
Instagram: https://instargram.com/bliss_books_and_paper Website: https://blissbooksandpaper.com
For some it takes a lifetime, for others it may never happen, but for Kristie it all came together so beautifully. She is one of the lucky ones that figured out her true calling early in life. As a child, Kristie slept with a box of crayons. She invented board games. She wrote fanciful stories. She drew colorful pictures. She painted with water on the sidewalks. She created wooden sculptures in her father's workshop from scraps. She was a creator. She still is.
Kristie's studio is her sanctuary, residing just outside of Chicago; it is filled with many sentimental items. She does almost all of her creating on a handcrafted table dating back to the mid-1800's, allowing her to draw inspiration from the past and those who made durable, long-lasting items. The guest chair, the place she often sits to sketch and work out new ideas, belonged to her grandfather who lived to 96 and always had great advice. An old wooden toy chest handcrafted by Kristie's father now holds memories inside with books and materials on top. The walls are filled with original photographs from her travels around the country and across the pond. Her life is filled with creative bursts. Everything around her is a potential inspiration, a seed of an idea. She never knows where they will come from, but is grateful for each one. Kristie prefers to create using timeless methods and traditional materials.
Creating every day is this little girl's dream come true and she is doing it with "joie de vivre." She harnessed her passion from a young age. It's her bliss and she's following it!
Read more