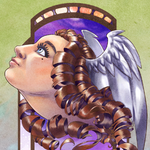 Liz Chesterman
Hihi! I'm a freelancer who specializes in character portraits. I tend to mix around in the sci-fi/fantasy genre and play dance games. My tools of the trade are Copic markers and ye olde Photoshop and Painter. You can find more of my work at: syrusbliz.tumblr.com (sketches, works in progress, etc) syrusbliz.deviantart.com (finished pieces) imaginatorcentral.com (porfolio and blog, coming soon) Liz Chesterman joined Society6 on February 9, 2013
More
Hihi! I'm a freelancer who specializes in character portraits. I tend to mix around in the sci-fi/fantasy genre and play dance games. My tools of the trade are Copic markers and ye olde Photoshop and Painter.
You can find more of my work at: syrusbliz.tumblr.com (sketches, works in progress, etc) syrusbliz.deviantart.com (finished pieces) imaginatorcentral.com (porfolio and blog, coming soon)
Liz Chesterman joined Society6 on February 9, 2013.
Liz Chesterman's Store
24 results
Filter