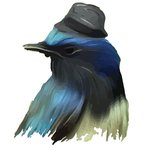 B/ue Robin
Artist of Love Art is a form of evolution that begins in the recesses of our hearts. My art revolves around creating an experience that stimulates the emotional and spiritual core. I integrate a variety of art forms including painting, digital art, photography, sculpture, dance, and music, to provoke as many senses as possible. B/ue Robin joined Society6 on November 2, 2016
More
Artist of Love
Art is a form of evolution that begins in the recesses of our hearts.
My art revolves around creating an experience that stimulates the emotional and spiritual core. I integrate a variety of art forms including painting, digital art, photography, sculpture, dance, and music, to provoke as many senses as possible.
B/ue Robin joined Society6 on November 2, 2016.
Prints by B/ue Robin
41 results
Filter