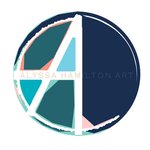 Alyssa Hamilton Art
27 | Abstract Painter | Currently Located: Cedar Rapids, Iowa, USA | You may know me from: Denver, Colorado, USA
M Y W O R K
Intuitive : Abstract : Contemporary
My includes a variety of abstract series from minimal and elegant to vibrant and alluring. I bring my inner dialogue to page and product to bring you art that you will love.
Read more
Prints by Alyssa Hamilton Art
543 results
Filter
Visa, Mastercard, PayPal, American Express, Discover
You are currently on society6.com.