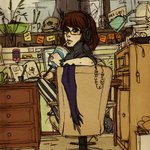 jessica krcmarik
Hi!
I'm an illustrator and concept artist based out of ann arbor.
I like: circuses, cultural anthropology, tarot, plague doctors, old houses, and graphic novels.
If you like that sort of stuff too, then you'll like my work!
To see more of my work, go to
http://jessicakrcmarik.com
or
http://bluucat.deviantart.com.
Thanks!
Read more
jessica krcmarik's Store
Filter
You are currently on society6.com.