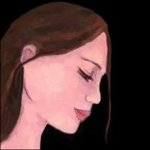 Bnspyrd
Bnspyrd is a mixed media semi-professional artist based in South Australia. She manages a deviantart account providing vintage and modern day resource for others artists of various levels. This includes decorative border art/backgrounds of various themes. One of Bnspyrd's product ranges are called NSPYS (pronounced N-Spees) it originated as a more modern, funky style of art, painted on a fabric shoe range then developed into painted teddy art, Memory Catchers (like a dreamcatcher), tote bags, pencil cases and more... The art designs in this gallery will reflect both styles. Bnspyrd joined Society6 on December 17, 2013
More
Bnspyrd is a mixed media semi-professional artist based in South Australia. She manages a deviantart account providing vintage and modern day resource for others artists of various levels. This includes decorative border art/backgrounds of various themes.
One of Bnspyrd's product ranges are called NSPYS (pronounced N-Spees) it originated as a more modern, funky style of art, painted on a fabric shoe range then developed into painted teddy art, Memory Catchers (like a dreamcatcher), tote bags, pencil cases and more...
The art designs in this gallery will reflect both styles.
Bnspyrd joined Society6 on December 17, 2013.
Bnspyrd's Store
19 results
Filter