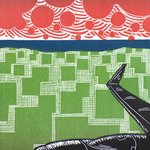 Boarding All Rows
My art is inspired by a love of airports, international travel, adventure and the outdoors. I suffer from a perpetual state of wanderlust! I'm based in the San Francisco Bay Area and so many of my designs also celebrate the awesomeness of hiking, camping and exploring California's iconic places like Lake Tahoe, Yosemite and Mt. Tam. Most of the designs in my shop are derived from linocut and woodblock prints. If you're interested in learning more about my artistic process, feel free to check out my website where I have some linocut tutorials. Thanks and Happy Travels! Rich Boarding All Rows http://www.BoardingAllRows.com Boarding All Rows joined Society6 on March 22, 2017
More
My art is inspired by a love of airports, international travel, adventure and the outdoors. I suffer from a perpetual state of wanderlust! I'm based in the San Francisco Bay Area and so many of my designs also celebrate the awesomeness of hiking, camping and exploring California's iconic places like Lake Tahoe, Yosemite and Mt. Tam.
Most of the designs in my shop are derived from linocut and woodblock prints. If you're interested in learning more about my artistic process, feel free to check out my website where I have some linocut tutorials.
Thanks and Happy Travels! Rich
Boarding All Rows http://www.BoardingAllRows.com
Boarding All Rows joined Society6 on March 22, 2017.