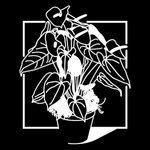 Bombarda
Hi! My name is Rodrigo and i'm textile designer from Sao Paulo - Brazil. I love creating patterns and graphics inspired by the organic forms of nature (animals, plants, flowers, fossils, microorganisms) mixing with an air of darkness and morbidity. I'm in love with white, black and red. Visit my portfolio: http://www.bombarda.cc † † † † † † † Bombarda joined Society6 on July 11, 2013
More
Hi! My name is Rodrigo and i'm textile designer from Sao Paulo - Brazil.
I love creating patterns and graphics inspired by the organic forms of nature (animals, plants, flowers, fossils, microorganisms) mixing with an air of darkness and morbidity.
I'm in love with white, black and red.
Visit my portfolio: http://www.bombarda.cc
† † † † † † †
Bombarda joined Society6 on July 11, 2013.