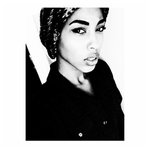 Door13
Hi! My name is Eris Rose. I am a Visual Artist and Fashion Designer from Brooklyn, New York. I have been an artist all my life. The act of creation is intensely gratifying; allowing me a vehicle to constantly express myself. Manifesting visual communications that resonate with other people in different ways is such a beautiful thing. I am inspired by a lot of different things. Most prominently, I draw from nature, music, anime, comic books, fantasy, surrealism and spirituality as means of ignition. I have always been passionate about fashion as well. People have such a personal relationship with their clothing. For me, having someone want to wear your are and utilize products featuring your artwork is such a high compliment. I hope you enjoy! Email: erisroseart@gmail.com Instagram: https://www.instagram.com/erisroseart/ Fashion Blog: enterdoor13.me All the best, ERA Door13 joined Society6 on May 2, 2012
More
Hi!
My name is Eris Rose. I am a Visual Artist and Fashion Designer from Brooklyn, New York. I have been an artist all my life. The act of creation is intensely gratifying; allowing me a vehicle to constantly express myself. Manifesting visual communications that resonate with other people in different ways is such a beautiful thing. I am inspired by a lot of different things. Most prominently, I draw from nature, music, anime, comic books, fantasy, surrealism and spirituality as means of ignition. I have always been passionate about fashion as well. People have such a personal relationship with their clothing. For me, having someone want to wear your are and utilize products featuring your artwork is such a high compliment. I hope you enjoy!
Email: erisroseart@gmail.com Instagram: https://www.instagram.com/erisroseart/ Fashion Blog: enterdoor13.me
All the best, ERA
Door13 joined Society6 on May 2, 2012.
Tshirts by Door13
12 results
Filter