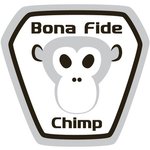 Bona Fide Chimp
We live in an era where majority of the people live in heavy populated areas whether it be small towns or big cities. Think about all the buildings, people, noises… we sort of live in a concrete jungle. Think about it a little bit more and you'll realize you're like a primate living that jungle…. you are a Bona Fide Chimp. Bona Fide Chimp is a clothing brand created for anyone who lives in an urban environment and created to express the urban lifestyle, experience, and culture. The goal is to inspire you creatively and to build a positive culture with Bona Fide Chimp. Find out more at https://bonafidechimp.com Bona Fide Chimp joined Society6 on July 18, 2015
More
We live in an era where majority of the people live in heavy populated areas whether it be small towns or big cities. Think about all the buildings, people, noises… we sort of live in a concrete jungle. Think about it a little bit more and you'll realize you're like a primate living that jungle…. you are a Bona Fide Chimp.
Bona Fide Chimp is a clothing brand created for anyone who lives in an urban environment and created to express the urban lifestyle, experience, and culture. The goal is to inspire you creatively and to build a positive culture with Bona Fide Chimp.
Find out more at https://bonafidechimp.com
Bona Fide Chimp joined Society6 on July 18, 2015.