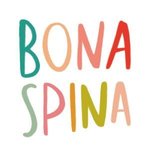 Bonaspina
Bonaspina is a family business, formed by Patricia Ortiz and Luis Carneiro. Their paths crossed and they realized that something special had started. From that moment, they went right the work to build a common goal. "We believe that everyday objects can improve daily life; that's why give them a lot of importance and make them fun,familiar and even exquisite". The process is ours from the beginning to the end; from the idea, the design, the illustration up until the production. Every part is done with special care. We are constantly thinking and designing new products, accessories, paper goods, posters and mugs. Thanks for visiting our store. Welcome! Bonaspina joined Society6 on September 26, 2013
More
Bonaspina is a family business, formed by Patricia Ortiz and Luis Carneiro. Their paths crossed and they realized that something special had started.
From that moment, they went right the work to build a common goal.
"We believe that everyday objects can improve daily life; that's why give them a lot of importance and make them fun,familiar and even exquisite".
The process is ours from the beginning to the end; from the idea, the design, the illustration up until the production. Every part is done with special care. We are constantly thinking and designing new products, accessories, paper goods, posters and mugs.
Thanks for visiting our store. Welcome!
Bonaspina joined Society6 on September 26, 2013.
Bonaspina's Store
20 results
Filter