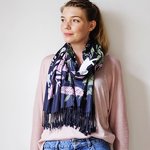 Lee May Foster-Wilson
Hello, I'm Lee! I'm an artist and illustrator and I live by the sea in a rural part of deepest darkest Cornwall in the far south-west of England.
In my work I like to explore patterns, rhythms and stories, the connection of people to nature and our relationships with each other. The wild world shapes us and we shape it. You will see that I like shapes and I like colours.
See more things I make: www.bonbiforest.com
Read more
Lee May Foster Wilson's Store
Filter