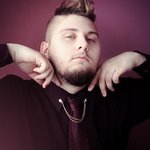 Andrii Bondart
Andrii Bondart was born in a small Ukrainian town and his life was rather quite and monotonous up until 2005 when he won the Elworthy scholarship. This was a life-changing event - Andrii got a chance to live and study in the UK for two years. Among five other A-levels he took Art and Design in Chigwell School – a place that became his personal Hogwards. Andrii Bondart is currently living in Kyiv, Ukraine and working as a photographer and illustrator. Andrii Bondart joined Society6 on June 3, 2013
More
Andrii Bondart was born in a small Ukrainian town and his life was rather quite and monotonous up until 2005 when he won the Elworthy scholarship. This was a life-changing event - Andrii got a chance to live and study in the UK for two years. Among five other A-levels he took Art and Design in Chigwell School – a place that became his personal Hogwards.
Andrii Bondart is currently living in Kyiv, Ukraine and working as a photographer and illustrator.
Andrii Bondart joined Society6 on June 3, 2013.
Andrii Bondart's Store
12 results
Filter