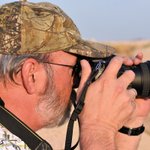 Bonfire Photography
If you want to know who you are, take 10,000 photographs. Then you will have begun the journey to personal expression. Welcome to my website. Photography has become my passion the past four years with a focus towards landscapes. When I look at photography it is more than a picture, it is a historical record of the past, as each image once it records the scene, the scene is already in the past. It is also one man's confirmation of his personal journey in this thing we call life. Beauty Of Nature Forever Inspires Revered Empathy, hence the name Bonfire. There are so many splendors around us, whether it is the sun rising through the ruins of an old barn on the Iowa prairie or the withering away of a purple coneflower in autumn. They all have their own distinctive form of beauty. Whether it is the image of a leaf-hopper, with its chameleon like eyes, no bigger than half a fingernail or a raging Minnesota waterfall each has its own appeal to the eye. I have now captured 100,000 of these scenes and have presented my best for you to look at and enjoy. Maybe one will touch you enough that you will want to display it on your own wall at home or in your office, to be viewed and admired daily, maybe a cell phone cover or a shower curtain. My images can be printed on most common everyday items and a full listing of print on demand site is available at my personal website. If you see something you would like but wish it was cropped differently please do not hesitate to ask and I will work with you to get the image the way you want to display it. Thanks for visiting and browsing my images. Duane D. Klipping Http://www.duaneklipping.com Read my blog @ www.duaneklipping.com Bonfire Photography joined Society6 on August 7, 2014
More
If you want to know who you are, take 10,000 photographs. Then you will have begun the journey to personal expression.
Welcome to my website. Photography has become my passion the past four years with a focus towards landscapes. When I look at photography it is more than a picture, it is a historical record of the past, as each image once it records the scene, the scene is already in the past. It is also one man's confirmation of his personal journey in this thing we call life.
Beauty Of Nature Forever Inspires Revered Empathy, hence the name Bonfire. There are so many splendors around us, whether it is the sun rising through the ruins of an old barn on the Iowa prairie or the withering away of a purple coneflower in autumn. They all have their own distinctive form of beauty. Whether it is the image of a leaf-hopper, with its chameleon like eyes, no bigger than half a fingernail or a raging Minnesota waterfall each has its own appeal to the eye.
I have now captured 100,000 of these scenes and have presented my best for you to look at and enjoy. Maybe one will touch you enough that you will want to display it on your own wall at home or in your office, to be viewed and admired daily, maybe a cell phone cover or a shower curtain. My images can be printed on most common everyday items and a full listing of print on demand site is available at my personal website.
If you see something you would like but wish it was cropped differently please do not hesitate to ask and I will work with you to get the image the way you want to display it. Thanks for visiting and browsing my images.
Duane D. Klipping Http://www.duaneklipping.com
Read my blog @ www.duaneklipping.com
Bonfire Photography joined Society6 on August 7, 2014.