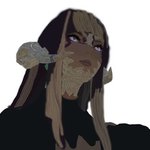 Bonita Navarrete Illustrations
Hello, and welcome to my shop! I hope that you find something that you like and support my art, either by liking my work, following me, or buying something. This is something that I love to do, and I fight myself a lot to even just sketch a lot of the time (anxiety and depression will do that to you). I've been doing a lot better when it comes to creating and I'm thrilled. Here's to keeping it up! Quick background: I attended the Milwaukee Institute of Art and Design for Illustration and Animation (time based media technically) for four years. Originally I went for Illustration as my major, but I switched to Animation junior year with Illustration as my minor. Due to my depression getting the best of me more times than I'd like to admit, as well as not being able to afford the school any more, I was unable to finish with a bachelors degree. To be honest, school was really draining the creativity from me and I was struggling to keep my fire alive, which didn't help my battle with depression any easier. But I love creating, be it with an image, an animation, or writing. It helps me work through things and keep moving forward. Bonita Navarrete Illustrations joined Society6 on September 18, 2013
More
Hello, and welcome to my shop! I hope that you find something that you like and support my art, either by liking my work, following me, or buying something. This is something that I love to do, and I fight myself a lot to even just sketch a lot of the time (anxiety and depression will do that to you). I've been doing a lot better when it comes to creating and I'm thrilled. Here's to keeping it up!
Quick background: I attended the Milwaukee Institute of Art and Design for Illustration and Animation (time based media technically) for four years. Originally I went for Illustration as my major, but I switched to Animation junior year with Illustration as my minor. Due to my depression getting the best of me more times than I'd like to admit, as well as not being able to afford the school any more, I was unable to finish with a bachelors degree. To be honest, school was really draining the creativity from me and I was struggling to keep my fire alive, which didn't help my battle with depression any easier. But I love creating, be it with an image, an animation, or writing. It helps me work through things and keep moving forward.
Bonita Navarrete Illustrations joined Society6 on September 18, 2013.