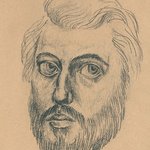 Boris Burakov
I was born in St.Petersburg (at that time still Leningrad), and graduated from the Stieglitz St. Petersburg State Academy of Art and Industry (then commonly known as the Vera Mukhina) in 1979. After completing the mandatory term of military service, I taught painting, graphics, composition, panel painting and porcelain painting. I worked as an illustrator, especially in the area of children literature. I was lead artist and art director of the publisher "Hydrometeoisdat". At the same time, I did graphic design. Since 1991 I am a member of the "Union of Artists of the USSR", now "Union of Artists of Russia". I moved to Germany in 1993 and nowadays work as a freelancer, mostly in graphic design. On the side, I'm teaching painting, graphics and composition. I did various exhibitions in a multitude of countries like Germany, Russia, the US and others. My artworks are currently in private collections in Germany, the US, Russia, Switzerland, Great Britain, Australia and others. I use different techniques and love combining single elements of different techniques to create new possibilities. In the area of graphic design I use traditional graphic design techniques with newer methods available through computer graphics. Living on the shore of Lake Constance, the picturesque landscape, ranging from medieval castles to quaint little villages and striking nature, is a wonderful inspiration both for my passion for painting and woodworking. You can follow me on Facebook: https://www.facebook.com/profile.php?id=100004717126392 Boris Burakov joined Society6 on September 27, 2014
More
I was born in St.Petersburg (at that time still Leningrad), and graduated from the Stieglitz St. Petersburg State Academy of Art and Industry (then commonly known as the Vera Mukhina) in 1979. After completing the mandatory term of military service, I taught painting, graphics, composition, panel painting and porcelain painting. I worked as an illustrator, especially in the area of children literature. I was lead artist and art director of the publisher "Hydrometeoisdat". At the same time, I did graphic design. Since 1991 I am a member of the "Union of Artists of the USSR", now "Union of Artists of Russia".
I moved to Germany in 1993 and nowadays work as a freelancer, mostly in graphic design. On the side, I'm teaching painting, graphics and composition.
I did various exhibitions in a multitude of countries like Germany, Russia, the US and others. My artworks are currently in private collections in Germany, the US, Russia, Switzerland, Great Britain, Australia and others.
I use different techniques and love combining single elements of different techniques to create new possibilities. In the area of graphic design I use traditional graphic design techniques with newer methods available through computer graphics.
Living on the shore of Lake Constance, the picturesque landscape, ranging from medieval castles to quaint little villages and striking nature, is a wonderful inspiration both for my passion for painting and woodworking.
You can follow me on Facebook: https://www.facebook.com/profile.php?id=100004717126392
Boris Burakov joined Society6 on September 27, 2014.