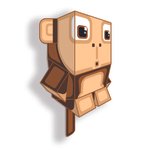 BoxEdsPaperCrafts
Hello!!! I'm Andrew from Melbourne, Australia. My images originally started as a way to share my passion for drawing and crafting with my two young children. My kids love of Lego and Minecraft inspired me to design simple, bold designs for artwork and paper crafts. These designs come straight from my paper toy creations which can be found at: www.boxedspapercrafts.com BoxEdsPaperCrafts joined Society6 on September 17, 2014
More
Hello!!!
I'm Andrew from Melbourne, Australia. My images originally started as a way to share my passion for drawing and crafting with my two young children. My kids love of Lego and Minecraft inspired me to design simple, bold designs for artwork and paper crafts. These designs come straight from my paper toy creations which can be found at:
www.boxedspapercrafts.com
BoxEdsPaperCrafts joined Society6 on September 17, 2014.