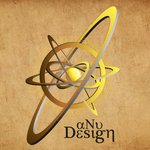 anu design
Design and artwork by aNu, carried out in a range of formats from oil and acrylic paintings, textile prints and paintings, calligraphy with inks, to graphic design such as logo design or graphics for medical journal publications. Currently living in Nottingham and happy to take commissions. anu design joined Society6 on November 15, 2014
More
Design and artwork by aNu, carried out in a range of formats from oil and acrylic paintings, textile prints and paintings, calligraphy with inks, to graphic design such as logo design or graphics for medical journal publications.
Currently living in Nottingham and happy to take commissions.
anu design joined Society6 on November 15, 2014.