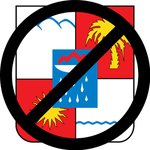 Boycott Sochi
In 2013, Russia enacted a law that has essentially made it illegal to be gay, lesbian, bisexual, or transgender. People have already been tortured and murdered in the name of this law. In 2014, the Winter Olympics will be held in Sochi, Russia. The Olympic Committee does not care about Russia's human rights violations, and in fact has stated that Olympic competitors are not to make political statements. Boycott the 2014 Olympics. Proceeds from this store will be donated to LGBT+ rights organizations. Boycott Sochi joined Society6 on August 7, 2013
More
In 2013, Russia enacted a law that has essentially made it illegal to be gay, lesbian, bisexual, or transgender. People have already been tortured and murdered in the name of this law.
In 2014, the Winter Olympics will be held in Sochi, Russia. The Olympic Committee does not care about Russia's human rights violations, and in fact has stated that Olympic competitors are not to make political statements.
Boycott the 2014 Olympics. Proceeds from this store will be donated to LGBT+ rights organizations.
Boycott Sochi joined Society6 on August 7, 2013.