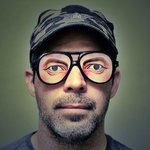 Brandon Page
BIO: Brandon Page studied at the Pratt Institute and the Maryland Institute College of Art, graduating in 1997. He is a fine artist, photographer, and Graphic Designer, always taking on all creative challenges with equal passion. He has lived all over the country, most recently moving from Seattle Washington to Columbus Ohio, where he is currently a design director for a design agency. For more info, visit: http://brandonpage.com Brandon Page joined Society6 on April 9, 2012
More
BIO: Brandon Page studied at the Pratt Institute and the Maryland Institute College of Art, graduating in 1997. He is a fine artist, photographer, and Graphic Designer, always taking on all creative challenges with equal passion. He has lived all over the country, most recently moving from Seattle Washington to Columbus Ohio, where he is currently a design director for a design agency.
For more info, visit: http://brandonpage.com
Brandon Page joined Society6 on April 9, 2012.
Brandon Page's Store
16 results
Filter