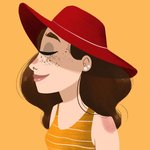 Brittany Pietrzykowski Illustration
I started doodling when I was small, and now that I'm big things haven't changed much at all. I have a B.S. degree in integrated marketing communications and I work as a freelance illustrator & graphic designer from my home studio in upstate New York.
When I'm not creating, I can be found playing with Luna the Wonder Kitten, wandering around aimlessly, or eating pizza.
Feel free to contact me for commissioned work and other projects.
Read more