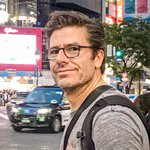 Bradley Hebdon
I love to photograph people, places and nature. But the magic I really want to capture, is the interaction between people and the environment. And in doing so, hopefully create a compelling and soulful visual.
My images are in use around the world, and you might have stumbled upon them in websites, magazines, books, social media, commercials and more. If pretty walls are your thing, you may want to consider owning a couple of my prints for your home or office.
Speaking of home, I'm a native Capetonian living in Southern California, with my equally lovely wife and daughter. Both of whom, are very much partners in my never-ending photographic adventure.
www.bradleyhebdon.com
Read more
Outdoor Floor Cushions by Bradley Hebdon
1 result
Filter
Department

Dept

Outdoor & Lifestyle

Products

Outdoor Floor Cushions