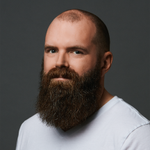 Brad VandenBerg
Brad VandenBerg is an Art Director with 13 years of professional experience. He is currently based in Chicago, Illinois. His past clients include Warbux Mopeds, Kale Miles, Black Knight Games, Audiotree, and 1977 Mopeds.
Brad's work is varied and can be seen in a wide spectrum of places, including: websites, iOS apps, ad campaigns, social media campaigns, brand identity apparel, retail locations, event collateral, camps, and surf/skate/snow/wake videos. His work on Billabong's "Evolution of an Icon" 2008 surf campaign was nominated for the Men's Marketing Campaign of the Year category at the 2009 SIMA Image Awards.
Brad holds a Visual Communication Design degree from the Hartford Art School at the University of Hartford in Connecticut.
Read more
Brad VandenBerg's Store
Filter
85d7f563-375a-433d-881f-abad28945b8f

Popular

604adaea-4273-46cc-bbde-5abcd3a17bef

All