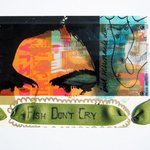 Brandie Mata
Brandie's passion and talent for art started at a young age and flourished from there. As a teenager she would cut up magazines such as Seventeen or Cosmo and rearrange letters and images to form new graphic collages. Before she graduated from college she was already a working graphic designer and received a Getty Grant Scholarship. It was in the years to follow that allowed her to completely develop a design style and appreciation for the arts. She's worked as an art instructor with developmentally disabled adults, graphic designer at DUB Magazine, design consultant at AVERY-DENNISON, designer at liveBooks as well as freelanced with other companies/organizations such as CalTech and SWOOP Magazine, FOAM Magazine, Wet Seal and Silver Jeans, Co. She is currently Creative Director and partner of Graffiti Beach Magazine and Art Director at Basic Media in Los Angeles. Fulfilling her longtime dream of publication design by no longer cutting up magazines but creatively designing magazine spreads that vibrate off the page leaving your senses asking for more. She is actively working on her art career and continues to work with other professionals as a designer under her own company name, ART+DESIGN+LOVE=ME (brandiemata.com). In the fall of 2010, she had a solo exhibit at BTNC in Fullerton with a record-breaking attendance and was interviewed for the Oprah Network. LA Downtown News has interviewed her regarding her attendance at the LA Craft Experience. OC Art & Culture interviewed her for the artist spotlight and was featured on one of Yelp's Weekly Newsletter as the "On the Radar" Event. She attends local craft & art fairs selling her art prints and hand made goods, please visit her site for available items. You may find her at LACMA, Amoeba Music, Wacko Soap Plant or various monthly art walks around LA! Brandie Mata joined Society6 on February 11, 2013
More
Brandie's passion and talent for art started at a young age and flourished from there. As a teenager she would cut up magazines such as Seventeen or Cosmo and rearrange letters and images to form new graphic collages. Before she graduated from college she was already a working graphic designer and received a Getty Grant Scholarship. It was in the years to follow that allowed her to completely develop a design style and appreciation for the arts. She's worked as an art instructor with developmentally disabled adults, graphic designer at DUB Magazine, design consultant at AVERY-DENNISON, designer at liveBooks as well as freelanced with other companies/organizations such as CalTech and SWOOP Magazine, FOAM Magazine, Wet Seal and Silver Jeans, Co. She is currently Creative Director and partner of Graffiti Beach Magazine and Art Director at Basic Media in Los Angeles. Fulfilling her longtime dream of publication design by no longer cutting up magazines but creatively designing magazine spreads that vibrate off the page leaving your senses asking for more.
She is actively working on her art career and continues to work with other professionals as a designer under her own company name, ART+DESIGN+LOVE=ME (brandiemata.com). In the fall of 2010, she had a solo exhibit at BTNC in Fullerton with a record-breaking attendance and was interviewed for the Oprah Network. LA Downtown News has interviewed her regarding her attendance at the LA Craft Experience. OC Art & Culture interviewed her for the artist spotlight and was featured on one of Yelp's Weekly Newsletter as the "On the Radar" Event. She attends local craft & art fairs selling her art prints and hand made goods, please visit her site for available items.
You may find her at LACMA, Amoeba Music, Wacko Soap Plant or various monthly art walks around LA!
Brandie Mata joined Society6 on February 11, 2013.