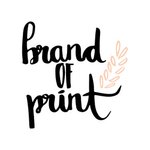 BrandofPrint
Thank you for checking out my products:) I hope you enjoy them. A little about myself: -Background in fashion design -Enjoy coming up with new prints, mostly digitally but also hand drawn sometimes. My prints are often quirky, fun and cute. -Love floral repeats If you have any questions, feel free to ask. BrandofPrint joined Society6 on November 18, 2016
More
Thank you for checking out my products:) I hope you enjoy them.
A little about myself:
-Background in fashion design -Enjoy coming up with new prints, mostly digitally but also hand drawn sometimes. My prints are often quirky, fun and cute. -Love floral repeats
If you have any questions, feel free to ask.
BrandofPrint joined Society6 on November 18, 2016.