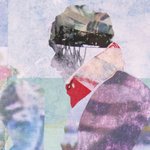 BRANDON FRIEND
Imprinting is a unique process that I have developed for over 10 years as an approach to painting that is fundamentally layer based mark making employing various methodologies rooted in painting, print-making, collage, and image transfer.
Growth and decay have greatly influenced my role as creator, observer and intermediary. Collage and the transferring of photographic elements obscure the surface along with veils of paint, producing ambiguous, visually rich subject matter. Each mark on the canvas, whether unintentional or deliberate, forces the painting into a new context that is non-linear and shifting. The emergence of recognizable images or gestures is intended to provoke a sense of familiarity that echoes throughout the paintings.
Symbol of the Defender The 'Defender' series explores our modern aggressions in the name of peace, prosperity and national security, as they're inevitably defined and channeled through the institutions of mass media. Each piece in the series is unified by the presentation of a simple iconic image, a silhouette or a shadow, of authority. These shadow figures are armed for the duality of combat, to both attack and defend, yet interestingly enough, they're armed not with the modern tools of combat but rather the antiquated pairing of shield and baton. As such, the authoritarian images in the Defender series evoke not our commonly thought of State militia, which protect our freedom overseas, equipped with some of the most advanced and extraordinary combat technology known to man, but rather the beat-walking protectors of our city streets, adorned in modest riot gear. Viewed as the latter, these "defenders" are policemen, public security and members of the National Guard, and are commonly called on to control, disperse and arrest civilians involved in riot, demonstration or protest. Through that association, Defender's imagery speaks not to the essential principles our country was built on (e.g. freedoms of Speech and Association), but becomes suggestive of the grittier realities that come with impassioned, angry, and acrimonious public assembly of the disenfranchised. The fact that these particular symbols of security and protection are most commonly associated with a disproportionate response to violence brings forth a bitter irony that's only further amplified by the selected title.
The contrast between the immediacy of the title 'Defender' and its symbolic representation through shift-based police forces in riot gear, underscores an undeniable truth that we've come to live in a modern grey area that makes our childhood notions of absolute security, both personal and national, seem almost quaint. This juxtaposition of name and imagery is a sly manipulation that presumably calls on some essential principal that's worthy of being defended. When viewed in context of current military deployments, this notion has long been undermined by the marketing and instrumentation of an 8+year war that continues to lack any genuine policy or strategy. The real irony is that this sense of security, which fuels our political divide and the ever-widening chasm of national debt, has in itself become as antiquated a notion of what's possible as the baton and shield are a symbol of law and order. Through the cartoonish facade of heroism as seen within the "defenders", the series projects the subtle suggestion that we continue to cling to our crass cowboy ideals of the six-shooter and juvenile comic book symbols of strength and showmanship, despite the creeping reality that a knowable and absolute sense of security has come to elude us in modern society.
Seen through the 'Defender' series, images have been stripped of their literal context to create a sense of confrontation, curiosity and attraction within the viewer. Solitary figures are presented against stark backdrops, their silhouettes hollowed out with elusive textures, while the multi-figure depictions have been deliberately obfuscated through various layers of opaque material. Additionally, the multi-figure compositions are presented within the shifting rhythms of foreground and background, both of which are strained through a distinct geometric rigidity. Ultimately one means of presentation creates a soft static drone, while the other, a cacophonous noise. Add in the muted tones and minor-key hues that remain from textures once applied and removed, and we're left with mere artifacts, a nagging suggestion of what's been lost along the way.
Read more