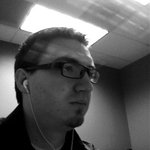 Brandon Waite
Waite Creative Studio is the multidisciplinary studio of designer, artist, and illustrator Brandon Waite. Many professionals in the fields of art and design choose only one path in which to focus their career. That philosophy has never appealed to Brandon, instead he has chosen to pursue as many different avenues as he can within the art and design fields in order to explore the creative possibilities that come with combining the different aspects of each discipline. To this end Brandon has experience in everything from fine art portraiture to web design, from magazine and book layout to corporate identity, from logo design to table top game illustrations. Brandon Waite joined Society6 on April 14, 2012
More
Waite Creative Studio is the multidisciplinary studio of designer, artist, and illustrator Brandon Waite.
Many professionals in the fields of art and design choose only one path in which to focus their career. That philosophy has never appealed to Brandon, instead he has chosen to pursue as many different avenues as he can within the art and design fields in order to explore the creative possibilities that come with combining the different aspects of each discipline.
To this end Brandon has experience in everything from fine art portraiture to web design, from magazine and book layout to corporate identity, from logo design to table top game illustrations.
Brandon Waite joined Society6 on April 14, 2012.