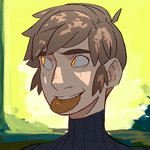 Breadtastesgood
Hello there! My name is Harrison! I'm a 20 year old human from Maine who likes to draw. I'm currently a New Media major at the Maine College of Art, with a focus in concept art and character design. I am heavily inspired by video games, fantasy illustration, and animation. My work has always been driven by strong notions of narrative and design, hoping to achieve believable worlds and environments with evocative auras. Breadtastesgood joined Society6 on September 11, 2013
More
Hello there! My name is Harrison! I'm a 20 year old human from Maine who likes to draw.
I'm currently a New Media major at the Maine College of Art, with a focus in concept art and character design. I am heavily inspired by video games, fantasy illustration, and animation.
My work has always been driven by strong notions of narrative and design, hoping to achieve believable worlds and environments with evocative auras.
Breadtastesgood joined Society6 on September 11, 2013.