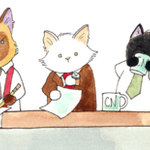 Breaking Cat News
High quality art prints from the webcomic "BREAKING CAT NEWS" by Georgia Dunn. Breaking Cat News follows the headlines of three hard hitting reporter felines, Elvis, Puck, and Lupin. If you already read it, welcome friend! I hope you enjoy these prints. If you would like to read Breaking Cat News, you can find the webcomic here: http://www.breakingcatnews.com/ Breaking Cat News joined Society6 on August 3, 2014
More
High quality art prints from the webcomic "BREAKING CAT NEWS" by Georgia Dunn. Breaking Cat News follows the headlines of three hard hitting reporter felines, Elvis, Puck, and Lupin. If you already read it, welcome friend! I hope you enjoy these prints.
If you would like to read Breaking Cat News, you can find the webcomic here: http://www.breakingcatnews.com/
Breaking Cat News joined Society6 on August 3, 2014.
Breaking Cat News's Store
237 results
Filter