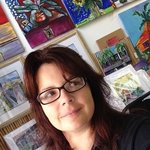 BrendaAnn.com
Brenda Ann is a local Stone Harbor artist creating unique Stone Harbor art using acrylics and watercolors. She enjoys painting Stone Harbor, Avalon and Cape May beach scenes and has a special affinity for painting local historic buildings and custom portraits of beach homes. In the winter, she creates tropical Key West art and art with a touch of the Caribbean and Florida Keys. She also paints custom bridal watercolors, florals, and wildlife, such as pelicans, herons, turtles and pet portraits. The influence of beach life is evident in her subject matter. Brenda Ann was born in Lansdale, PA and grew up with her parents, grandparents, and younger brother in Pottstown, PA. She followed her in her family's creative footsteps, making handmade trinkets as a youngster and displaying at art fairs. As a teenager, she followed the family to Stone Harbor, NJ where she opened her own art studio to pursue her creative dreams. She currently spends most of her time in Stone Harbor, but enjoys visits to the Sunshine State whenever possible. For years, she enjoyed visiting the annual exhibition of the Florida Keys Watercolor Society. It was an inspiration to her with the handmade paintings of local Florida Keys wildlife and scenery. She later joined the Society and became their Publicity Chair, assisting with social media and web design. She is honored to be the current President of the Florida Keys Watercolor Society, serving her second term. Her art has been featured in the Key West Art Center in Key West, Florida and the Redbone Gallery in Islamorada, Florida. She has been awarded 3rd Honorable Mention for "Turtles in Paradise" at the March 2014 Exhibition of the Florida Keys Watercolor Society in Marathon, Florida. She has also been awarded the 2nd Place Ribbon for "Purple Orchids in Paradise" at the March 2014 Redbone/Key West Art Center Exhibition of the Florida Keys Watercolor Society. She has studied with watercolorists Tom Jones, Charles Passarelli, Sean Callahan, and internationally renown watercolor artist Mel Stabin, a protege of Edgar Whitney. Her art is in private homes worldwide. Artist Statement "There is nothing better than the feeling of painting a watercolor. Watercolor painting is magical! Every time I paint, I am on a creative adventure, with bright colors to inspire me. The pigments move elegantly across the paper, with a little help from water of course, combining in unique ways. I enjoy the light and shadow that can be created with watercolors. I work with primarily transparent watercolors, which makes my job fun! Transparent washes of color allow the light to bounce back from the paper, creating a brilliant effect unique to watercolor. A great watercolor can inspire in so many ways. It is always an amazing feeling to know that it is possible to convey onto paper what your imagination has created in your mind. Becoming a watercolor artist is very much like being a chemist. The end result is either a masterpiece, or a complete disaster! I love the challenge of mastering watercolor painting, and I will always strive to learn more while enjoying the journey." -Brenda Ann View more of Brenda Ann's art on www.BrendaAnn.com BrendaAnn.com joined Society6 on January 25, 2015
More
Brenda Ann is a local Stone Harbor artist creating unique Stone Harbor art using acrylics and watercolors. She enjoys painting Stone Harbor, Avalon and Cape May beach scenes and has a special affinity for painting local historic buildings and custom portraits of beach homes. In the winter, she creates tropical Key West art and art with a touch of the Caribbean and Florida Keys. She also paints custom bridal watercolors, florals, and wildlife, such as pelicans, herons, turtles and pet portraits. The influence of beach life is evident in her subject matter.
Brenda Ann was born in Lansdale, PA and grew up with her parents, grandparents, and younger brother in Pottstown, PA. She followed her in her family's creative footsteps, making handmade trinkets as a youngster and displaying at art fairs. As a teenager, she followed the family to Stone Harbor, NJ where she opened her own art studio to pursue her creative dreams. She currently spends most of her time in Stone Harbor, but enjoys visits to the Sunshine State whenever possible. For years, she enjoyed visiting the annual exhibition of the Florida Keys Watercolor Society. It was an inspiration to her with the handmade paintings of local Florida Keys wildlife and scenery. She later joined the Society and became their Publicity Chair, assisting with social media and web design. She is honored to be the current President of the Florida Keys Watercolor Society, serving her second term. Her art has been featured in the Key West Art Center in Key West, Florida and the Redbone Gallery in Islamorada, Florida. She has been awarded 3rd Honorable Mention for "Turtles in Paradise" at the March 2014 Exhibition of the Florida Keys Watercolor Society in Marathon, Florida. She has also been awarded the 2nd Place Ribbon for "Purple Orchids in Paradise" at the March 2014 Redbone/Key West Art Center Exhibition of the Florida Keys Watercolor Society. She has studied with watercolorists Tom Jones, Charles Passarelli, Sean Callahan, and internationally renown watercolor artist Mel Stabin, a protege of Edgar Whitney. Her art is in private homes worldwide.
Artist Statement "There is nothing better than the feeling of painting a watercolor. Watercolor painting is magical! Every time I paint, I am on a creative adventure, with bright colors to inspire me. The pigments move elegantly across the paper, with a little help from water of course, combining in unique ways.
I enjoy the light and shadow that can be created with watercolors. I work with primarily transparent watercolors, which makes my job fun! Transparent washes of color allow the light to bounce back from the paper, creating a brilliant effect unique to watercolor. A great watercolor can inspire in so many ways. It is always an amazing feeling to know that it is possible to convey onto paper what your imagination has created in your mind.
Becoming a watercolor artist is very much like being a chemist. The end result is either a masterpiece, or a complete disaster! I love the challenge of mastering watercolor painting, and I will always strive to learn more while enjoying the journey." -Brenda Ann
View more of Brenda Ann's art on www.BrendaAnn.com
BrendaAnn.com joined Society6 on January 25, 2015.
BrendaAnn.com's Store
9 result
Filter