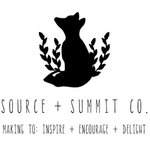 Brenna Giessen
Hi! I'm Brenna Giessen and I'm the artist behind Source + Summit Co. I live in Savannah, GA where I spend my days juggling my business, 2 great kids and as much time on the beach as possible. I believe nature can cure many things, relationships and people are most important and that pink should have been my natural hair color. I love to explore different styles and mediums in my work and although the subject of my pieces may change, my love of nature, color and textures are evident throughout. My work is a glimpse into my life and soul and I find it amazing that my pieces can connect with someone. My hope is that my work brings joy, happiness and peace to your home! Check out www.sourceandsummit.co for more work Twitter: @brennagiessen Instagram: @brennagiessen Facebook: www.facebook.com/sourceandsummitco Brenna Giessen joined Society6 on October 21, 2013
More
Hi! I'm Brenna Giessen and I'm the artist behind Source + Summit Co. I live in Savannah, GA where I spend my days juggling my business, 2 great kids and as much time on the beach as possible. I believe nature can cure many things, relationships and people are most important and that pink should have been my natural hair color.
I love to explore different styles and mediums in my work and although the subject of my pieces may change, my love of nature, color and textures are evident throughout. My work is a glimpse into my life and soul and I find it amazing that my pieces can connect with someone. My hope is that my work brings joy, happiness and peace to your home!
Check out www.sourceandsummit.co for more work
Twitter: @brennagiessen Instagram: @brennagiessen Facebook: www.facebook.com/sourceandsummitco
Brenna Giessen joined Society6 on October 21, 2013.
Prints by Brenna Giessen
34 results
Filter