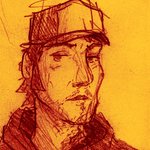 Brett Leeper
A graduate of Missouri State University's Bachelor of Fine Arts in Computer Animation program, I am ever-more knowledgeable in Photoshop, After Effects, and traditional art, I'm practical in LightWave 3D, InDesign, Encore, Media Encoder, Audacity, Acrobat, and Office, plus I am fluent in translating work in between these. I enjoy taking leadership in and facilitating group work in creative arts and other areas. In addition to seeking high craftsmanship and productivity in visual art and communication, I take a strong interest in the ways sustainability and health intersect cooking, agriculture, fitness activities, economics, architecture, as well as civic design and policy. I can be seen bicycling around Springfield, Missouri where I live and work. Beets are my favorite vegetable. Brett Leeper joined Society6 on March 16, 2014
More
A graduate of Missouri State University's Bachelor of Fine Arts in Computer Animation program, I am ever-more knowledgeable in Photoshop, After Effects, and traditional art, I'm practical in LightWave 3D, InDesign, Encore, Media Encoder, Audacity, Acrobat, and Office, plus I am fluent in translating work in between these. I enjoy taking leadership in and facilitating group work in creative arts and other areas. In addition to seeking high craftsmanship and productivity in visual art and communication, I take a strong interest in the ways sustainability and health intersect cooking, agriculture, fitness activities, economics, architecture, as well as civic design and policy. I can be seen bicycling around Springfield, Missouri where I live and work.
Beets are my favorite vegetable.
Brett Leeper joined Society6 on March 16, 2014.
Brett Leeper's Store
26 results
Filter