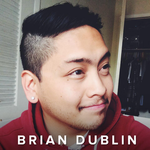 bdubzgear
Hello! My name's Brian Dublin. I am an aspiring Singer, Songwriter, Photographer, and New Media Designer. I am currently working on a degree in Web Design & New Media at Academy of Art University in San Francisco, California. You can visit my blog to check out my latest designs, music, photography, and more. www.brian-dublin.com If ya happen to buy any of my designs, tweet me a picture of yourself with it and I'll feature you on my blog! Twitter: @briandubz bdubzgear joined Society6 on December 13, 2012
More
Hello! My name's Brian Dublin. I am an aspiring Singer, Songwriter, Photographer, and New Media Designer. I am currently working on a degree in Web Design & New Media at Academy of Art University in San Francisco, California.
You can visit my blog to check out my latest designs, music, photography, and more. www.brian-dublin.com
If ya happen to buy any of my designs, tweet me a picture of yourself with it and I'll feature you on my blog!
Twitter: @briandubz
bdubzgear joined Society6 on December 13, 2012.
Hoodies by bdubzgear
11 results
Filter