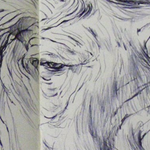 Brian Jarrell
This is who I am, my self-expression and my absolute passion.
My work is mostly the culmination of time spent observing people in coffee shops, on busy street corners, or just about anywhere I can watch everyday people doing everyday things. My other passion is drawing and observing animals. Some alive. Some, well... not so much. Either way, I absolutely love drawing, sketching, observing, laughing at the things I hear and see, and being able to document my life, and the lives of others, one day at a time. And of course, most of the time they have no idea what's happening.
Most of the work is created in Moleskine sketchbooks and I'd be lying if I said there weren't a few impurities, an ink blob here or there, the occasion stitch in the middle of the art and maybe even some random stain from copious amounts of coffee trying to keep me awake. It's me, it's what I live for and it's what keeps me sane.
Nevertheless, I hope you enjoy my work and I sincerely appreciate you visiting. I'd also love to hear your thoughts and feedback.
"Like" my Facebook page:
https://www.facebook.com/brianjarrellart
www.brianjarrellart.com
Read more
Brian Jarrell's Store
121 results
Filter