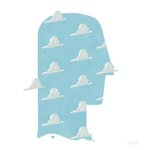 Brian Michael Gossett
BRIAN IS A DESIGNER, ILLUSTRATOR, DIRECTOR, AND DAD BASED IN THE PERPETUALLY WEIRD CITY OF AUSTIN, TEXAS. Brian has been fortunate enough to have worked on a wide variety of projects over the past 10 years, both large and small ranging from; music videos, to animated and live action commercials, to editorial and advertisement illustrations, and exhibiting his original art and designs at galleries in Los Angeles and New York. He's spoken at OFFF Mexico City, at the Apple Store in Santa Monica for the ADC, for AIGA at an event featuring him, and at the Hammer Museum in Los Angeles. In 2008, he was awarded an ADC Young Gun as one of the top 50 artists under the age of 30. He approaches every brief with an open mind and imagination with the aim to bring charm, wit, and his own unique style and voice to service the client. When he's not making something he's usually thinking of something he wants to make. The thing he likes to make most is smiles. And dad jokes. Brian Michael Gossett joined Society6 on October 30, 2014
More
BRIAN IS A DESIGNER, ILLUSTRATOR, DIRECTOR, AND DAD BASED IN THE PERPETUALLY WEIRD CITY OF AUSTIN, TEXAS. Brian has been fortunate enough to have worked on a wide variety of projects over the past 10 years, both large and small ranging from; music videos, to animated and live action commercials, to editorial and advertisement illustrations, and exhibiting his original art and designs at galleries in Los Angeles and New York.
He's spoken at OFFF Mexico City, at the Apple Store in Santa Monica for the ADC, for AIGA at an event featuring him, and at the Hammer Museum in Los Angeles. In 2008, he was awarded an ADC Young Gun as one of the top 50 artists under the age of 30. He approaches every brief with an open mind and imagination with the aim to bring charm, wit, and his own unique style and voice to service the client. When he's not making something he's usually thinking of something he wants to make. The thing he likes to make most is smiles. And dad jokes.
Brian Michael Gossett joined Society6 on October 30, 2014.