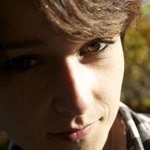 Brianna Gosselin
Brianna Gosselin is an artist possessing the unique ability to paint the world as few of us see it. Densely layered, her work captures the spirit and light of nature, radiating back to viewers with an energy felt more than seen. A graduate of PCVS — celebrated for it's art programs — Brianna continues to expand beyond her preferred medium of acrylics, drawing a harmonious balance between texture, form and colour.
In addition to her own work, Brianna passes on her love of art as an instructor at her studio and at the Art School of Peterborough. Acting less as a teacher, and more as a guide, and with a style that is engaging and interactive. She inspires students to find and express their own artistic voice. In addition, Brianna has served on the Art School of Peterborough's board of directors and was chair of the marketing committee. She continues to be involved in the community and has worked with the Peterborough Humane Society for their Duke's Trail Tour, assisted with Camp Kerry's art bereavement program and partnered up with the YWCA to bring the YWCA Bean Up to live.
Currently, Brianna's work is on display at the Art School of Peterborough with works being shown this Summer at Gallery in the Attic, John B. Aird Gallery and Traynor Vineyard. She is a member of the Little Red Hen artists collective.
www.briannagosselin.com
Read more
Phone Skins iPhone X by Brianna Gosselin
0 results
Filter