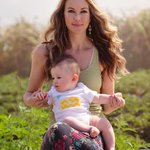 Briana Berrie
Easily inspired natural light lover, tree and flower lover, country music lover, sundress and lace lover, all things farmhouse lover. I have a baby boy who continually refreshes my admiration for the beauty of nature. He is most at peace while outside observing trees and feeling the wind in his hair. That sense of harmony and beauty that occurs when the sun illumines a leaf a certain way, or shines through a petal, or streams through a tree, or gently falls across a flower revealing its velvety texture in a way that makes us feel close to nature and inspired, that is what speaks to my heart. And it is my passion to capture those occurrences in hope that it may bring joy, comfort, warmth, or peace to anyone viewing my work. Briana Berrie joined Society6 on January 31, 2012
More
Easily inspired natural light lover, tree and flower lover, country music lover, sundress and lace lover, all things farmhouse lover.
I have a baby boy who continually refreshes my admiration for the beauty of nature. He is most at peace while outside observing trees and feeling the wind in his hair. That sense of harmony and beauty that occurs when the sun illumines a leaf a certain way, or shines through a petal, or streams through a tree, or gently falls across a flower revealing its velvety texture in a way that makes us feel close to nature and inspired, that is what speaks to my heart. And it is my passion to capture those occurrences in hope that it may bring joy, comfort, warmth, or peace to anyone viewing my work.
Briana Berrie joined Society6 on January 31, 2012.