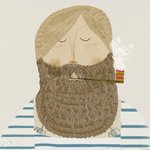 bri.buckley
bri.b 'I pluck colors from a rainbow to produce organic art '. Bri blends graphic design with illustration. The self-taught artist experiments with a wide range of styles and techniques to achieve his distinctive look. His charming and colourful cityscapes, landscapes, animal portraits and abstract works are rendered using paint,watercolors, scraps of paper ,and a sprinkle of magic . bri.buckley joined Society6 on September 13, 2012
More
bri.b
'I pluck colors from a rainbow to produce organic art '.
Bri blends graphic design with illustration. The self-taught artist experiments with a wide range of styles and techniques to achieve his distinctive look. His charming and colourful cityscapes, landscapes, animal portraits and abstract works are rendered using paint,watercolors, scraps of paper ,and a sprinkle of magic .
bri.buckley joined Society6 on September 13, 2012.
Popular+cases by bri.buckley
0 result
Filter