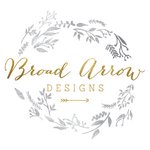 Broad Arrow Designs
Hello and welcome to Broad Arrow Designs! My name is Corrie Roberts and I am the Owner and the artist behind all the work you see here. I love to create. My passion for love for the arts and typography began at the early age of 10. My Grandparents and their beautiful farm in East Texas was such an influence on who I have become today. It was there I started selling beautiful feathers under a mature oak tree with my cousins. This experience inspired me to create, be creative and strive to grow my own company. My connections to past heritage and wonderful celebrations of this amazing life we live are the driving passions that inspire me to create. I am a visual storyteller. I enjoy getting to know my clients and hearing their meaningful stories behind the words that they hold so dear to them. My client requests for these one of a kind creations have ranged from heirloom initials of Grandparents, the bride and groom on their special day, the name of a newborn or a favorite quote for your home or business. These signs make the perfect unique and personal gift for someone close to your heart. Through my years of developing the skill and craftmanship in hand painted typography, combined with your memories I guess you can say I am in the preservation business of your personal art that will last for generations to come. I located locally in the DFW area! All of my work is hand painted on wood with a genuine love for my craft and great attention to detail. I welcome you to browse around the galleries. Please don't hesitate to contact me if you have any questions. I look forward to meeting you and creating your individual hand crafted heirloom art. XOXO, Corrie R. Broad Arrow Designs joined Society6 on August 6, 2014
More
Hello and welcome to Broad Arrow Designs! My name is Corrie Roberts and I am the Owner and the artist behind all the work you see here.
I love to create. My passion for love for the arts and typography began at the early age of 10. My Grandparents and their beautiful farm in East Texas was such an influence on who I have become today. It was there I started selling beautiful feathers under a mature oak tree with my cousins. This experience inspired me to create, be creative and strive to grow my own company. My connections to past heritage and wonderful celebrations of this amazing life we live are the driving passions that inspire me to create. I am a visual storyteller. I enjoy getting to know my clients and hearing their meaningful stories behind the words that they hold so dear to them.
My client requests for these one of a kind creations have ranged from heirloom initials of Grandparents, the bride and groom on their special day, the name of a newborn or a favorite quote for your home or business. These signs make the perfect unique and personal gift for someone close to your heart.
Through my years of developing the skill and craftmanship in hand painted typography, combined with your memories I guess you can say I am in the preservation business of your personal art that will last for generations to come.
I located locally in the DFW area! All of my work is hand painted on wood with a genuine love for my craft and great attention to detail. I welcome you to browse around the galleries. Please don't hesitate to contact me if you have any questions. I look forward to meeting you and creating your individual hand crafted heirloom art.
XOXO, Corrie R.
Broad Arrow Designs joined Society6 on August 6, 2014.
Broad Arrow Designs's Store
22 results
Filter